After touring FOSS events all around the world, I decided to see what's happening on the local software scene.  I met with the guys from Montreal-Python, the Ubuntu Québec local team guys (after all Montréal is the home of Canonical's Global Support Services) and the local start-ups at DemoCamp.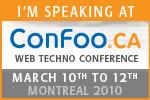 They convinced me I should give a talk at Confoo.ca.  In fact I decided to submit 2 talks and both were accepted.  Confoo.ca is a new conference building on the famous PhpQuébec conferences but gathering much more communities together: .Net, Python, Ruby and Web developers. The conference will cover technical topics as well as project management, marketing and social medias.
Based on my personal knowledge and the experiments I've been doing lately with Web + Desktop apps combinations, I've submitted the following talks.
Application servers are the central part of data applications. They are responsible for mission critical activities of businesses and yet have to be cost effective. Django offers a lot of flexibility by providing rapid application development. Django-piston makes it easy to add RESTful APIs to existing Django apps. Web servers are very common and rather cheap to rent or host in house.
Once your application has a RESTful API, nothing is keeping desktop applications to access your web services. For example, using librest on the desktop, Emerillon accesses on-line databases such as Geonames. Librest simplifies accessing RESTful web services and makes parsing XML fun again (that's a Robert Bradford quote if I am not mistaken).
When thinking of online maps, Google Maps is often mentioned as a reference. But you can't use their data in all the exciting ways you could ever imagine. Enters OpenStreetMap: community built openly licensed map data. You are virtually free to do anything with the data, short of not giving proper attribution of its origins.
With this gained freedom, you can explore and create unique maps adjusted to your needs. You can also simply reuse the default one available on OpenStreetMap.org, in some locations it is way more complete than any other maps anyway.
Come and attend Confoo.ca!